*Kathryn (Kathy) Houser
High School Secretary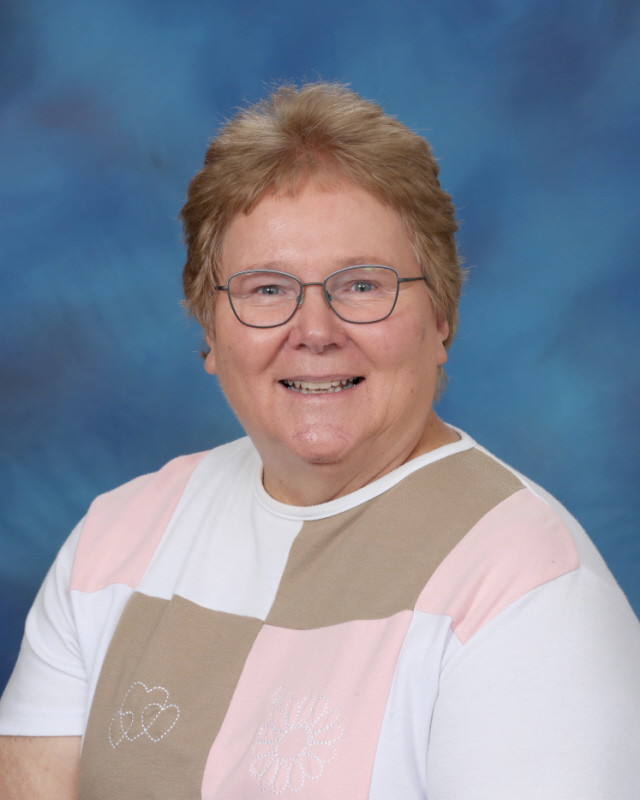 Kathy Houser
High School Secretary
---
Other Duties: Web Page
email: khouser@meridianmustangs.org
Years in Education: Kathy is starting her 52nd year (21-22) here at Meridian.
Meridian K-3 Para/Secretary in Daykin - 1970-1977
Meridian K-6 Para/Secretary at Meridian School - 1977-2007
Meridian 7-12 Secretary - 2007-2022
Years at Meridian: 52 years (started the fall of 1970)
Kathy started as a para/secretary/recess duty/hot lunch monitor in August of 1970 in the Meridian - Daykin School with Grades K-3.
She then moved to the newly built Meridian K-12 building where she continued with the same duties.
In 2005, she moved to the high school and took over duties as the high school secretary for the principal, counselor, and teachers.
She was concession sponsor starting in the fall of 2000. Her last year as concession sponsor was 2016-2017.
Hobbies/Interests: Love to read. Was Den Leader for the Meridian Cub Scouts (Wolf Cubs, Bear Cubs, Webelos) for 15 years (1994-2009). Chairman of raising money for Meridian Elementary playground (2004), love to watch Hallmark Channels
Family: Husband - Charles (retired Math teacher of 34 years) Presently bus driver for Meridian School - 18th year
Sons - Patrick (married Julie) Lives in Weston, MO - Computer Programmer
- Mark - lives in Daykin - Construction - Self
Daughter - Renae (married Jay Endicott) - Lives in Lincoln - Accountant
Granddaughter - Emma Houser - born 9/13/12
Grandsons - Reid Endicott - born 6/4/14
- James Houser - born 9/17/16
- Jax Endicott - born 11/28/16
updated 2/7/22
--
NebPS Support Team
TroubleShoot Tuesdays -
No appointments needed, join this open zoom for any question.
To access KB Articles or submit a ticket, log into the NebPS helpdesk at nebps.jitbit.com
*click on forgot password to reset your password
Phone: 402-597-4868
*When you leave a voicemail, this will create a ticket that will be answered promptly by the team.
--
You received this message because you are subscribed to the Google Groups "NebPS ADVISER" group.
To unsubscribe from this group and stop receiving emails from it, send an email to nebps-ADVISER+unsubscribe@nebps.org.